In today's world, data is often the most valuable asset in a business, and any major data loss event can have devastating consequences, as evidenced by the myriad of high-profile ransomware attacks. It covers the whole world and affects various companies, business and organizations.
Your backup strategy must reflect IT needs, budget, and resources. Some backup strategies may seem only good on paper, but unless they align with your business, they may be more difficult than they are worth.
Backup methods:
Database backup: Some plugins allow you to only backup your database.
Complete backup: Some other plugins let you backup your entire website, including your database and all files.
Scheduled backup: This option you can schedule a backup to run automatically, giving you peace of mind.
Full Backup Strategy
Full backup is the simplest strategy to back up data. As the name implies, this includes a copy of all stored data. If you want to create a full backup at the end of each day, you will need at least 5 times the backup space due to the storage space. The high cost of storage space is the biggest disadvantage of full backup. Another important downside is the time it takes to back up. It doesn't matter how many changes have been made to the latest backup. A full backup is always a copy of any saved file, even if it's already backed up.
List bellow is the best WordPress Backup plugins (2020)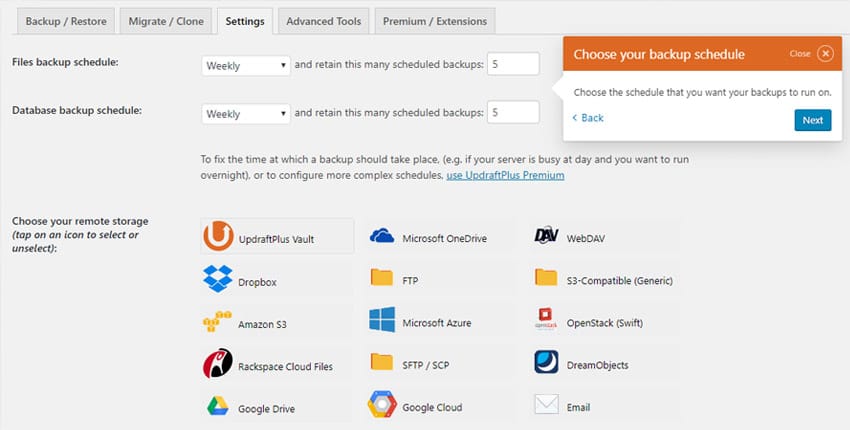 One of the best and simplest plugin for backup and restoration WordPress website and database and most popular scheduled backup plugin. It's easy to use and you can backup and restore your website with single clicks. Also it does a powerful documentation. Backup into the cloud directly to Dropbox, Google Drive, Amazon S3 (or compatible), UpdraftVault, Rackspace Cloud, FTP, DreamObjects, Openstack Swift, and email. The paid version also backs up to Microsoft OneDrive, Microsoft Azure, Google Cloud Storage, Backblaze B2, SFTP, SCP, and WebDAV. Some of features:
Incremental backups
Easily duplicates or migrates websites
Multisite network supports
Backs up non WP files and databases to multiple destinations
Storage destinations (e.g. OneDrive, BackBlaze) and multiple destinations
Database encryption
Advanced reporting
Supports WP-CLI

VaultPress plugins is one of the best plugins for backups. It's real time backup and restoration plugin, also it have security scanning services. VaultPress designed and developed by Automatic team, the same company that operates millions of sites on WordPress.com and creators of WooCommerce plugin. This plugin is now powered by Jetpack and effortlessly backs up every post, page, comment, media file, revision, and dashboard setting on your site to our servers.

BackWPup can backup and restore your whole WordPress website and also can backup your wp-content folder and push it on external servers and services such as DropBox, FTP, S3, etc. With a simple .zip file of your backup you can simply restore your installation on the same or new site. Some features:
Database Backup (Require mysqli)
WordPress XML Export
Generate a file with installed plugins
Optimize, Check and repair Database
Files and folders backup
Backups in zip, tar, tar.gz format
Store backup to directory
Store backup to FTP, Dropbox, S3, Microsoft Azure
Store backup to RackSpaceCloud, SugarSync
Conclusion
Your data backup strategy should reflect your recovery goals and your business needs. Don't forget to consider the location of your backup. Having all the eggs in one basket is a disaster. Modern cloud backup solutions allow you to easily distribute your backup in different geographical areas without any overhead.